Explore Jewish Communities around the world
Travel with us every Thursday and discover different Jewish stories
We invite you to get on our Hot Air Zoom Balloon to meet exceptional guides and Jewish community members who live around the world and will tell us first-hand the history and current activities of their communities.
When: Every Thursday
Time: See below
Duration: 60 minutes
Check out our next destinations
Every month, we will be flying to 4 or 5 cities in different regions. Join us!
JUNE: EASTERN EUROPE LIVE WALKING TOURS
Learn More
Anna Maria is a licensed tour guide in Kraków with over 7 years of experience in providing meaningful tours for international visitors to Poland. During her virtual tour, Anna Maria will take you on a journey through the best-preserved Jewish Quarter in Europe with its old Jewish cemetery and pre-war synagogues. Kazimierz (the Jewish District) was the center of Jewish life in Krakow for over 500 years until World War II. Rediscovered in the 1990s thanks to Steven Spielberg's Schindler's List and the Jewish Culture Festival Kazimierz has become a popular tourist destination for visitors from Poland and abroad. Nowadays Kazimierz is a home to the growing Jewish community, local artists and students and everyone who decides to visit this amazing place.
Learn More
Helise, a native of Champaign-Urbana Illinois, has lived and worked in Poland since 1994. She is the director of the Taube Center for Jewish Life & Learning and its educational tour program, Taube Jewish Heritage Tours. Jewish Warsaw, like the city itself, is a palimpsest. The richness of its Jewish past and its contemporary Jewish life requires keen curiosity, contemplation, and the willingness to explore beneath and beyond its multifaceted landscape.
Learn More
Lucie has followed her passion and since 1997 has been working as a guide and as a tour agent with her family business named Lucytours. She is a licensed guide in the Czech Republic as well as in the Prague Jewish Museum. Although Prague Jewish Quarter was modernized in the beginning of the twentieth century, it is unique in Europe and it belongs to the main highlights of the city. We will learn about the history and the present life of the Czech Jewish Community. Our tour will begin at the Spanish Synagogue a beautiful temple built in the Moorish style and we will finish at the famous Prague Astronomical Clock.
Learn More
Aušra, is a guide in Vilnius, Lithuania and is a true lover of her city and the Jewish heritage there. The Lithuanian Jewish Community was founded in 1989, just before the Soviet Union collapsed and the Jewish national revival arose. Vilna once had more than a hundred synagogues and nearly half of the population was Jewish thus being named the Jerusalem of Lithuania for more than 300 years. The Nazi occupation and the Holocaust irretrievably changed this town, but new sculptures, street art and other artistic artefacts appear nearly every month reminding us of the glorious Vilna Jewish community. Let's have a look at them together.
Our Hot Air Zoom Balloon is landing in Vilna in
Please check your local time at the start of the next tour this THURSDAY.
Pacific Standard Time (LA): 9 AM
Mountain Standard Time (Denver): 10 AM
Central Standard Time (Chicago): 11 AM
Eastern Time (New York): 12 NOON
Argentina Time: 1 PM
British Standard Time: 5 PM
Central European Time: 6 PM
Israel Standard Time: 7 PM
CALABRIA: HIDING IN PLAIN SIGHT
Learn More
Rabbi Barbara Aiello was born in Pittsburgh, Pennsylvania (USA) but her roots run deep in the mountain village of Serrastretta, in the "toe" of the Italian "boot." She has been living and working in Italy for 17 years as rabbi of Calabria's first active synagogue in 500 years since Inquisition times. From the sound of the shofar on secular New Year's Eve, to the Magen David (Star of David) embedded in the ceramic tiles of dozens of courtyards, to the observance of the "shloshim" (30 day mourning period), here in the mountains of Calabria, Jewish traditions hide in plain sight.
Learn More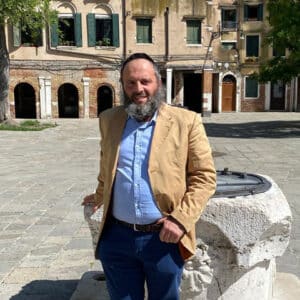 Moshe was born in Milan to Sephardic Jewish parents that came to Italy from Iran in the 1950's and married in Italy. His mother arrived at age 12 and went to school in Milan. Moshe has a degree in economics, works in diamonds, and is an official certified tour guide for Venice and Italy. Currently they have three children. Moshe is looking forward to having you in Venice in the future & giving you the pleasure of a real Venetian experience.
Learn More
Giovanna was born in Florence where she lives and works as a licensed tour guide and historian. Her city's Jewish history dates back to the 15th century. Many do not know about the close relationship between the Jews and the Medici family during the Renaissance. A high level of rights were granted to Jewish citizens in Florence and Tuscany during the government of the Habsburg-Lorraine Grand Dukes, started in the first half of the 18th century. Currently the Jewish Community has about 900 members and is very active.
She is excited to share Jewish Firenze's truly fascinating history!
Learn More
Micaela Pavoncello is a proud member of the Jewish Community of Rome. She was born and raised in Rome to a Jewish Roman father and a Libyan Jewish Sephardic mother. She is a trained Art historian and she founded Jewish Roma Walking Tours in 2003 mixing the passion for her Jewish heritage and the love for Rome, the Eternal city. The first Jews came from Jerusalem to Rome on Chanukah to ask protection to the Romans against the Greeks. She has shared the history and traditions of the Jewish community with hundreds of people from all over the world, showing Rome through Jewish eyes.
Learn More
Moshe Ben Simon was born and raised in Tel Aviv in a Sephardic family. After a mandatory military service in the Israeli army, he moved to Sicily where he graduated with a degree in Literature and Philosophy from Messina University. His final thesis was entitled: "Heresia Judaica and Inquisizition in Sicily in the period between Ferdinand the Catholic and Charles V". For the last 25 years, he has been working and living in Sicily as a tour guide and his speciality is Jewish history of the Island. He is the author of numerous articles related Judaism and Jewish history of Sicily.
AUGUST: SYNAGOGUES AROUND THE WORLD
Learn More
Mois Gabay was born in Istanbul, Turkey. He's an active professional tour guide and one of the board members of the The Quincentennial Foundation Museum of Turkish Jews. The first Jewish Museum was founded in 1992, in order to commemorate the 500 years of existence of the Sephardim Jews from the Ottoman Period till the Modern Republic of Turkey. The Jewish Community in Turkey has a long and rich history that stretches back some 2000 years to Roman times when Jews left Jerusalem and dispersed throughout the world. One of the most unique things that we will learn about is the history of the Camondo Family, who were called the "Rothschilds of The East" and their journey from Istanbul to Paris.
ST. PETERSBURG: GRAND CHORAL SYNAGOGUE
Learn More
Evgenia Kempinski is a Russian Jew born and raised in St. Petersburg by the family whose ancestors originated from the Pale of Settlement – Poland, Belorussia and Ukraine. She is a professional tour guide and the founder/owner of St. Petersburg Jewish Tours.  As a young girl she went to the first private Jewish school in USSR located in the Grand Choral Synagogue of St. Petersburg – the second largest in Europe, whose construction dates back to 1893. The St. Petersburg Jewish Community is rather young as it was first established in the early 19th century.
BERLIN: FRAENKELUFER SYNAGOGUE
Learn More
Dekel Peretz was born in Tel-Aviv, grew up in Queens and has been living in Berlin for the past 18 years. Dekel holds a PhD in German-Jewish history and has been a top guide in Berlin, Potsdam, Dresden and the ShUM cities, the cradle of Ashkenazi tradition, for over a decade. He currently spearheads efforts to rebuild the main sanctuary of the Fraenkelufer Synagogue, destroyed by the Nazis, as a community and cultural center. In recent years Berlin has become a Mecca for hip young Jews from all over the world and the Synagogue is located in a neighborhood Dekel calls "New Williamsburg." This year we will light up Berlin's first large-scale upcycled Channukia. I will tell you all about it when we meet!
MEXICO CITY: HISTORIC SYNAGOGUE
Learn More
My name is Mónica Unikel-Fasja. I found my passion in the streets of Historic Mexico City, where Jewish immigrants arrived and lived around a century ago. I've dedicated nearly half of my life to walk around those streets, narrating the testimonies and the stories of Jewish immigrants in the form of guided tours. I have also studied and published about the synagogues in Mexico, and I participated in the revitalization of an abandoned synagogue which today I run as a cultural center, named Nidje Israel, and now known as Historic Synagogue opened in 2010, and since then it has served as an open space for all sorts of Jewish cultural activities and all kinds of people.
MAY: A-B-C-D TOURS (RECORDINGS)
If you'd like to view a recording of any previous tour from April and/or May, please send an email to mariano@jewishmajorca.com 
If you'd like to view all 4 recordings per month you can access them with a special discount using the form below:
APRIL: AFRICA (RECORDINGS)
Are you a group of friends, familiy or a Jewish community that would like to travel together?
CLICK HERE

  and find out about our special discounts for groups or
REGISTER HERE AND GET A SINGLE TICKET
| | | | |
| --- | --- | --- | --- |
| | Cost | Sessions | Save |
| Individual Session | 18 USD | 1 | |
| Monthly Series | 54 USD | 4 | 25% |
| Complete Package | 108 USD | 12 | 50% |
If you've signed up for one or more tours and haven't been able to attend…
Don't worry! Send us an email and we will send you the recording.
Susan Shender
Well, once again, you hit it out of the park. Thank you and your group for all your work. I don't believe one has to be Jewish to give a rich and full presentation of Jewish history.
Sylvie Bordzuk
Thank you so much for bringing Jewish communities around the world to our living rooms / dens / phones, etc. I am becoming more and more interested in my Jewish heritage with each visit, especially having been brought up with a not particularly strong Jewish identity.
Hank Glickman
One of the best presentations I've ever heard anywhere…
Sheryl A Roberts

Hi, I just finished watching the Hot Air Balloon trips I missed. One is better than the other. They have been fabulous. The speakers you lined up were wonderful. I hope you continue this. Thank you so much.